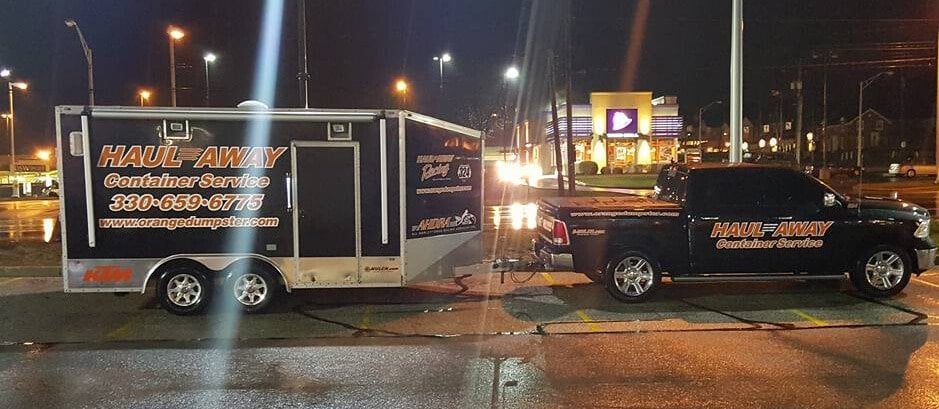 ---
What Can I Put In My Dumpster?
Your dumpster can be filled with all the construction debris, household materials, landscaping materials, and trash that you can fit up to the upper rim. However, our dumpsters cannot accept fire, hot coals, or hazardous materials, including paint, tires, aerosols, chemicals, and or cleaners. When you rent our dumpsters, see our list of acceptable and not acceptable items in the last FAQ section of our website or ask one of our professional drivers for assistance upon delivery. If you are disposing bricks, concrete, asphalt, dirt, or any other aggregates, you cannot overfill past the dedicated fill line, and those materials cannot be mixed with any other debris.
---
How Much Can I Put In My Dumpster?
Your dumpster can be filled all the way to the top, as long as it is level with the utmost rim of your container. If you overfill it, you may have to remove the excess until it is level with the rim. Save yourself time and money and don't overfill! If you are afraid there won't be enough room, review our rental rates and consider ordering a larger size to avoid penalties.
---
Will The Dumpster Damage My Pavement Or Parking Lot?
Haul Away takes every available measure to decrease the possibility of damaging your pavement. Our trucks are equipped with a system that lowers the dumpster with remarkable control, setting it gently on the ground. Other heavier models of trucks may hammer the dumpster down with force, causing injury. Thus far, we have had remarkable success in preventing damage to your pavement. To increase your pavement protection, we do recommend that you put a sheet of plywood down before we lower the dumpster onto your pavement. This small measure will prevent minor surface scratches.
---
Can I Dispose Of Hazardous Materials In The Dumpster?
While Haul Away does not have the proper dumpster equipment to store and remove hazardous materials, we would be glad to point you in the right direction. Over the years, we have built up many relationships in the dumpster removal industry. We know many great vendors for hazardous waste removal.
Browse our Service Area page for more details on our availability in your region. If you would like more information on our services, contact us today at 440-546-1879.
---
Are there fuel surcharges or environmental fees?
Yes, prices do not include environmental fees put on at the landfill/transfer station per the state of Ohio or potential fuel surcharges based on fuel prices.